If you're doing lots of sanding or prefer to save on elbow grease, you should invest in an electric hand sander and there are a range of choices. Here's a quick summary of electric sanders that are good for use on furniture…
Full disclosure, I participate in the Amazon Affiliates scheme so if you are inspired to buy anything by this blog post, please use the links and I'll get a little commission from Amazon at no extra cost to you!
Orbital sanders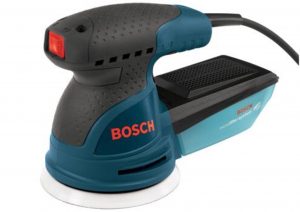 Orbital sanders an feature a square or round head and move in a circular fashion. If you choose one of these make sure you choose a random orbital sander for best results. The random orbits stop you getting sanding rings on your surface. This type of sander uses special 'hook and loop' (Velcro style) sanding sheets which can be slapped on and peeled off really easily. You can also get buffing pads which attach to the sander in the same way – something we'll look at in another blog post about using furniture wax!
Buy my favourite random orbital sander or Buy a mixed pack of discs for it
Belt sanders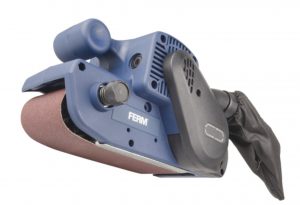 Belt sanders move in a straight line by rolling a closed loop of sandpaper forward. They are best for sanding large flat surfaces like a table top, wardrobe or bookcase. Generally with belt sanders you mount a custom manufactured 'loop' of sandpaper onto the belt and lock this into place. N.B. Always move belt sanders inline with the grain or you'll get sanding marks.
Buy my favourite belt sander or Buy a pack of mixed sanding belts for it.
Detail sanders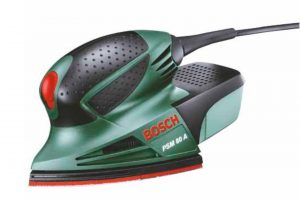 Detail sanders have a small triangular head for getting into nooks and crannies. By far my favourite type of sander, I am a huge fan of a type of detail sander called a mouse sander. They are easy to use and offer many of the benefits of all the other sander types. They aren't too heavy or too aggressive so don't yank you around or try to run away on their own. Detail and mouse sanders use 'hook and loop' pads in triangular shapes.
Buy my favourite mouse sander or Buy a mixed pack of sanding pads for it.
Top tip: The front corner of a detail sander pad will wear out first. Pull the pad off and move a different corner to the front so you can get more use from the same pad.
I hope this quick 101 was helpful, I'm sure you'll let me know in the comments! If there's anything else you'd like me to give you the down-low on comment below or drop me a line.