DAPPR Aviation Partnership
Showing all 8 results
Glasshouse Girl and DAPPR Aviation met at the Home and Gardens Festival at Olympia in July 2019.  This has resulted in a creative partnership with complementary ranges of upcycled furniture and a sourcing service.
DAPPR's tables and desks combine reclaimed aviation parts with solid wood and glass. Glasshouse Girl upcycles vintage chairs to match. We offer a combined creative and sourcing service to meet your individual requirements.
Shown below are just a few examples.
DAPPR and Glasshouse Girl are continually adding new table designs and unique chairs.
Bespoke commissions are regularly undertaken and our creative collaboration is delivering truly inspired interiors.
More creative projects, installations and client commissions are currently in progress!  Sign up for the Glasshouse Girl newsletter to be kept up to date.
DAPPR Aviation Tables
Here are few of my favourite tables, just click on the images to visit the DAPPR website and buy! Don't forget to tell them Glasshouse Girl sent you!
If you want to buy a DAPPR table with a set of Glasshouse Girl chairs, then contact me and we can give you a combined package price.  Commissions welcome!
Glasshouse Girl Chairs
And the Glasshouse Girl range of chairs that work brilliantly with them: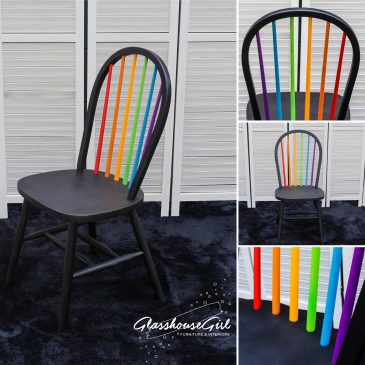 Rainbow Stickback Chair
Whether you like The Wizard of Oz, support gay Pride or simply love a rainbow, the Glasshouse Girl Rainbow Chair will bring a splash of colour to your dining room, hallway or home office! Colour has been proven to boost your mood and this chair delivers just that! The chair was completely disassembled, sanded back to the bare wood and undercoated. Each of the stick was painted in a different rainbow colour and the main frame of the chair painted in a matt black acrylic paint. Once reassembled the chair was topcoated with a satin varnish to keep if looking beautiful and make it hard wearing. This chair design can also be ordered in sets of 2, 4, 6 or 8 with a black or white frame.  Custom coloured sticks and frames are also available on request (a fuschia frame and different pink shade sticks for instance!).  Just
challenge Glasshouse Girl
to come up with the perfect solution just for you!
£

125.00
Add to basket