'F' Collection - French, Farmhouse, Floral or Feminine
Showing all 3 results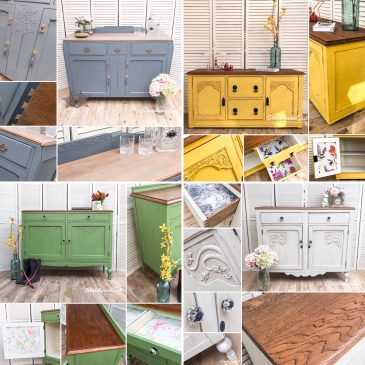 Vintage Farmhouse Country Oak Hand Painted Sideboards
Pictured here is a selection of the vintage oak sideboards which have been given a handpainted country makeover and I can source the perfect piece for you too! You'll then be able to choose all the details so I can give your piece a bespoke makeover including:
Exterior paint colour
Level of distressing (none, some, lots)
Optional antiquing glaze
Whether to paint the interior (inc colour) or clean and restore with lemon oil
Wallpaper for door and drawer liners
Stain colour for wooden top surface (light, medium, dark)
Handles (inc colour and style)
Replacement locks and keys
Bespoke key tassels
We can even change the legs / base to suit!
Typical widths are between 120cm and 150cm. The prices provided in this listing are for illustration purposes and will depend on your final piece and the chosen details. For more information and some no obligation suggestions, please contact me and #challengeglasshousegirl
£

485.00 –

£

655.00
Select options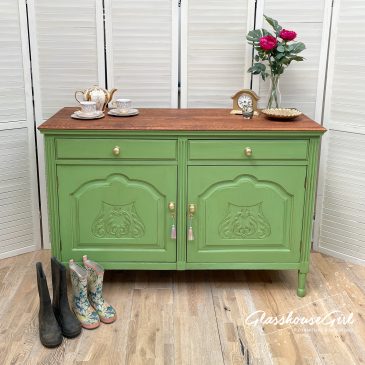 Apple Green Rustic Farmhouse Sideboard
This classic oak sideboard features carved details and has a primitive styling which really reflects a spring time English country lifestyle. The main unit has been painted in a custom mixed apple green coloured acrylic paint, lightly distressed and antique glazed to give it an authentic time worn style. The original brass handles have been repolished and lacquered to keep them looking bright and shiny. The top has been completely stripped back to the wood, stained with a dark oak wood dye and made durable with a finishing coat of a hardwearing matt floor oil. The original works are still in good working order and complimentary tassels have been added to the handles. The interior has been cleaned up and painted in an off-white acrylic paint.  To add a bit of interest when you open the drawers, I have used Laura Ashley's 'Summer Palace' wallpaper in the Duck Egg colourway.  With the vibrant duck egg / aqua blue base, pink birds and yellow / pink flowers, the interior is as interesting at the outside. Dimensions: 1340mm wide x 480mm deep x 905mm high. As this is a preloved piece with an aged and distressed finish, please examine all the photos carefully before purchase - thank you! Condition notes:
the left hand door needs to be pressed gently to when opening the lock with the key.
the right hand door needs the key to not be pushed all the way in when unlocking!
The back right corner of the top has a visible crack but this is completely stable and does not move or distract from the finish.
I have similar units and a wide range of other options in stock which can be done in this design or other colours just for you.  Typical lead time is 4-6 weeks. Please
contact me
for more information.
£

595.00
Add to basket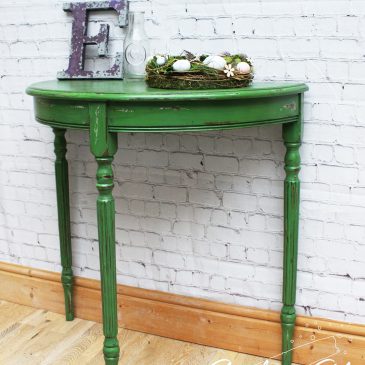 Green French Farmhouse Distressed Demi Lune Table
This vintage reproduction demi lune table has all the elegance of late 18th and early 19th century France in all its faded grandeur. The simple top is complimented by three gently tapering legs with a vertically grooved central column. The original dark wood has been undercoated in white and hand painted in 2 coats of Apple Green chalk paint. To get that vintage aged look, it has then been distressed in a 'chippy' Farmhouse style and topped with a black streaky glaze. Two coats of gloss varnish seal the piece, allowing it to endure every day usage. The bright green is very on trend and would make a striking feature in your hallway or behind a sofa. Top it off with a display of your vintage treasures for a modern take on French country elegance. Dimensions: 750mm wide x 380mm deep x 760mm tall. As this is a deliberately distressed finish, please examine the photos carefully before purchase – thanks!
£

115.00
Commission Similar