Stencils
Showing all 3 results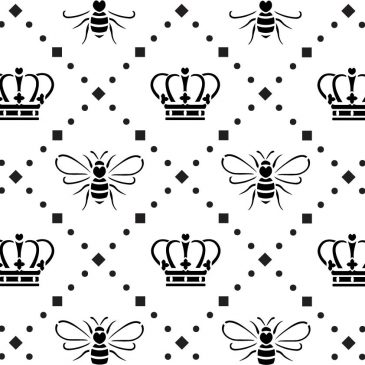 "Queen Bee Lattice" Stencil – A3
This exclusive Glasshouse Girl designed stencil features delicate bees with heart thoraxes alongside heart detailed crowns all within a dot and square lattice. The A3 sized stencil has been cut from 190gsm mylar which is reusable and suitable for paint and raised moulded effects on furniture, walls and any other flat surface you fancy giving a makeover. Included in your pack is a standalone bee stencil and a standalone crown stencil which are perfect for touch-ups or use on their own. Bee measurements - approx 72mm wide x 50mm Crown measurements - approx 57mm wide x 43mm Full instruction on how to get the best from your stencil are included.
£

45.00
Add to basket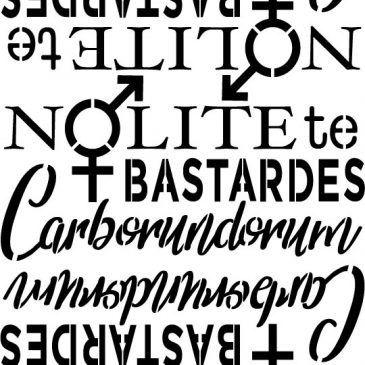 "Nolte te Bastardes" Stencil – A4
This custom made reusable stencil has been cut from 190gsm mylar to create a reusable stencil. This 3-up layout is A4 in size and comes with a FREE male / female equality symbol bonus. Full instruction on how to get the best from your stencil are included.
£

25.00
Add to basket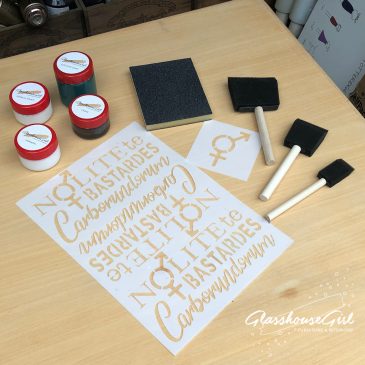 "Nolte te Bastardes" Coffee Table Makeover Kit
This Glasshouse Girl DIY Kit contains all the materials you need to give your coffee table (or another small piece of furniture) a "Nolte te Bastardes" stencil top makeover!  Full instruction are included with more hints and tips on top of those detailed in the tutorial on my blog! The kit contains:
80 grit 'surface stripping' sandpaper
3 x Foam paint brushes (1 x small, 1 x medium, 1 x large)
1 x coarse grit sanding/smoothing pad
1 x easy stencilling pouncer
100ml acrylic colour coat in June Red, Serena Teal, Martha Grey or Commander Black
50ml white chalk stencil paint
50ml weathered oak waterbased wood stain
50ml stain waterbased wood varnish
2 x paper plates
1 x paper bowl
1 x A4 Glasshouse Girl "Nolte te Bastardes" mylar stencil
FREE BONUS GIFT: 1 x small Glasshouse Girl male/female equality symbol mylar stencil
I had an amazing A-Level English Lit teacher who introduced me to The Handmaid's Tale.  This was over 20 years ago (boo!) but the lessons in this sci-fi novel have never left me. With the amazing recent Hulu series, I felt like "Nolte te Bastardes Carbondurum" is a true call to action for this generation - join the revolution with your own coffee table makeover. This is a stylish, subtle and surprisingly achievable upcycle!  Do it the Glasshouse way and come home from work every day knowing that you won't "Let the bastards get you down"! I have preregistered for my copy of Margaret Atwood's sequel novel - The Testaments - have you?!
£

59.90
Select options