Storage Unit
Showing all 2 results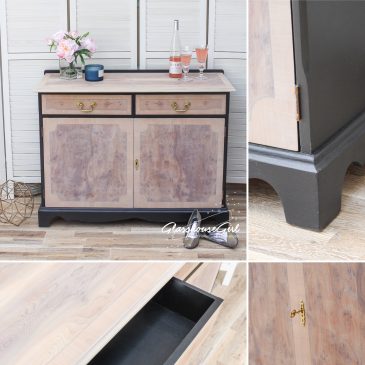 Black & Pale Yew Sideboard / Dresser
This gorgeous small sideboard has been given a real Glasshouse Girl transformation - you can
read all about it on my blog
. Starting its journey as a yellow varnished piece, once the varnish came off the yew veneer revealed its true beauty. The body has been painted (inside and out) in a black matt acrylic paint giving it an edgy modern finish. Whilst the top surface, drawer fronts and doors have had a cream tinted oil applied and been buffed until it feels like velvet.  This oil product was originally developed for floors so its incredibly hardwearing. The handles and hinges have been refinished in brass, a nod to its traditional styling. This small sideboard would be lovely in a dining room or kitchen but would work equally well as a tv stand or bedroom storage. Dimensions: 1080mm wide x 460mm deep x 790mm high. I can source similar yew wood pieces including dining room sets, larger sideboards and bedroom furniture if you would like something similar. I provide no obligation quotes and a sourcing service so that you can find the ideal piece easily.
£

345.00
Add to basket
Sale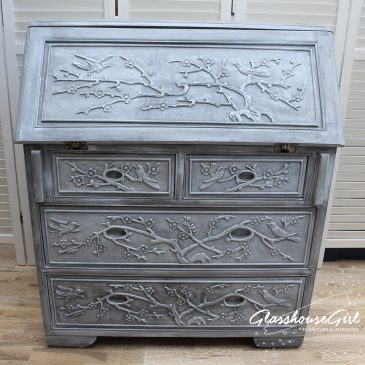 Game of Thrones Inspired Cocktail Bureau
This stunning carved solid teak bureau would make the perfect cocktail or drinks cabinet as well as providing loads of storage space.  A unique statement piece, you can just imagine the conversations you could have with family and friends around it whilst you prepare drinks and cocktails! It's practical and stylish - what more could you want? The piece has has moved past its dark 1980s style days and brought bang up to date with a grey and white drybrushed finish.  This makes it look like stone or metal which changes depending on the light. I've tried to show you this in the photos. The front of the bureau and drawer fronts feature a carved birds and blossom design which is really brought out by the finish.  This is what really inspired me to give it the edgy finish as it was so reminiscent of the Game of Thrones intro.  The flowers align it with the House of Tyrell but you won't be disappointed if you are feel you're more of a Stark, Lannister, Baratheon or Targaryen.  Even if you've never watched GOT and couldn't care less where the inspiration came from, you'll still love its statement modern style! The interior has been painted in sleek black whilst the drawers have been lined with a grey / black snakeskin print paper with just a touch of glitter which adds that little bit of extra style and surprise when open. The original oriental base has been replaced with some simple solid oak 'L' shaped corner feet which brings the styling bang up to date. Dimensions: 460mm deep x 890mm wide x 1010mm tall. Incredibly heavy, this piece will need a specialist courier so please contact me for a full quote before purchasing.
£

695.00
Add to basket