'F' Collection - French, Farmhouse, Floral or Feminine
Showing all 3 results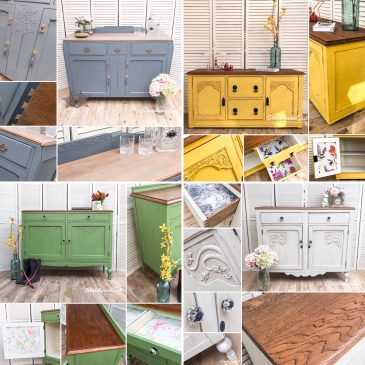 Vintage Farmhouse Country Oak Hand Painted Sideboards
Pictured here is a selection of the vintage oak sideboards which have been given a handpainted country makeover and I can source the perfect piece for you too! You'll then be able to choose all the details so I can give your piece a bespoke makeover including:
Exterior paint colour
Level of distressing (none, some, lots)
Optional antiquing glaze
Whether to paint the interior (inc colour) or clean and restore with lemon oil
Wallpaper for door and drawer liners
Stain colour for wooden top surface (light, medium, dark)
Handles (inc colour and style)
Replacement locks and keys
Bespoke key tassels
We can even change the legs / base to suit!
Typical widths are between 120cm and 150cm. The prices provided in this listing are for illustration purposes and will depend on your final piece and the chosen details. For more information and some no obligation suggestions, please contact me and #challengeglasshousegirl
£

485.00 –

£

655.00
Select options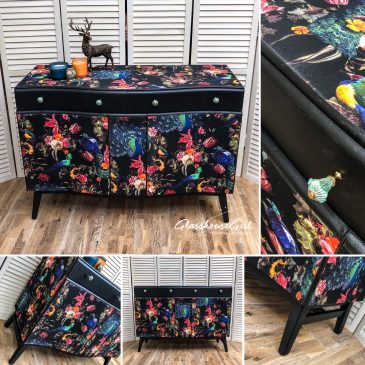 Dark Peacock Bow Front Sideboard
This gorgeous 1950s Beautility brand sideboard has been given a major overhaul.  The original veneer had petrified and had to be completely removed to expose the true beauty of the piece underneath. It bow-front curves gently undulate accentuating its fine figure. Once stripped down, the piece was brought back to life by painting in multiple acrylic coats of Fusion Mineral Paint's Coal Black before I applied this stunning textured vinyl wallpaper to the flat surfaces.  The design has a black base and striking colours which feature peacocks, quail and other birds as well as tulips, roses and floral motifs. To complete the piece, I have added the gorgeous handles from Anthropologie.  The black drawers are set off with turquoise handles and the doors have matching black handles to more subtly merge into the feature paper. This piece is truly Shabby Luxe, a piece has been luxuriously upcycled whilst keeping its vintage charm intact. Dimensions: 1220mm wide x 490mm deep (at max curve) x 565mm high. The piece has been finished and graded for light domestic use (e.g. display and storage purposes) standards but if you wish to use it for a more arduous application (e.g. bar or serving area) then I would recommend adding a glass top.  A glass top template will be included with your purchase for you to source locally or please
contact me
for an upgrade price. As this piece is preloved and upcycled, please can you carefully review all the photos before purchase - thank you! I have similar units and a wide range of other options in stock which can be done in this design just for you.  Typical lead time is 2-4 weeks. Please
contact me
for more information.
£

415.00
Add to basket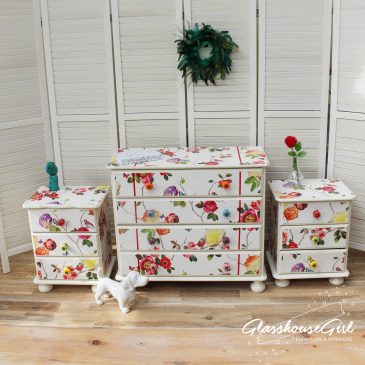 Colourful Birds & Roses Bedroom Set
This delightful vintage shabby chic bedroom set is a wonderful example of what can be done with 80s/90s pine furniture.  The surfaces, edges and feet of each individual piece are similar but not identical making it a lovely little harlequin set - one that matches without being matchy matching! Each piece has been sanded, undercoated and then hand painted with two coats of Fusion mineral paint in their 'Limestone' colour way which is a soft cream. They have then been decoupaged on all the flat surfaces with this incredible roll of wallpaper featuring roses and birds in dramatic colours on a cream background - sadly this colourway has now been discontinued :(  The edges of the decoupages have been torn rather than knife cut and lightly sanded giving it a very relaxed and romantic feel. The units have been finally been sealed with multiple layers of a resin based sealer to make them as practical as they are beautiful. Multi-colour ceramic pumpkin handles with gold detail lines on a bronze base and a red drawer liner complete this country cottage shabby chic look. Dimensions Bedside table 1: 425mm wide x 312mm deep x 533mm high Bedside table 2: 429mm wide x 313mm deep x 537mm high Chest of drawers: 827mm wide x 376mm deep x 731mm high Please note: these are vintage pine units which are in good but not perfect condition (see drawers of one of the cabinets) but I believe this just makes them even more charming and individual - a shabby chic enthusiast will just love them.
£

660.00
Commission Similar