Collection
Showing 1–12 of 45 results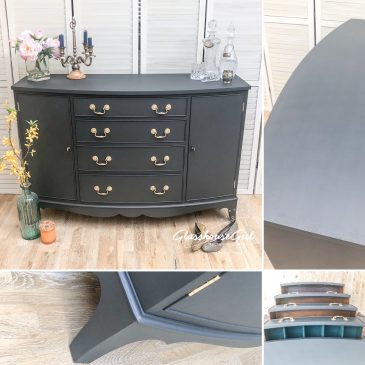 Grey Sideboards
Let's talk about Grey sideboards because I'm working on three this month!
I have one medium bow fronted sideboard with four central drawers and a cupboard on either side in stock and ready to ship immediately - the majority of the photos are of this sideboard.  The sideboard has been updated with a matte ash grey acrylic paint and a touch up pot will be provided to keep your piece in perfect condition for years to come. The original handles are solid brass and have been restored and lacquered.  Each cupboard is closed and opened using a key and both original keys are included.  If you pop me a message after purchase, I will make you a set of custom tassels for the keys in up to two colours.  Theinterior has been lightly used by its previous owner so I simply cleaned and polished it with lemon polish so it smells gorgeous! Measurements: 1305mm wide x 870mm tall x 350mm / 455mm deep (end / middle). If this isn't the one for you then read on rather than buying now! I've shown 'multi-pix' of other grey sideboards that I've worked on.
My grey sideboards are based on quality preloved pieces - mostly reproduction and exceptionally crafted veneered items. They are usually stripped back to the bare wood before priming, undercoating and painting in grey matte acrylic paint and the shade can vary from a pale almost white grey, through mid greys, blue greys and darkest greys.  An additional topcoat in matte, satin or gloss can also be added. The original handles are either replaced or refinished in stunning gold chrome - or your own choice of finish like antiqued brass or silver chrome.  The insides are cleaned and polished.
All my pieces are upcycled and use preloved furniture and whilst they have been given a complete upgrade, there may be still be limited signs of their vintage provenance. Please review all photos before purchase - thank you! Any type of sideboard style or size can be sourced for you. I hold a number of sideboards in stock and can source something to meet your requirements.  You will receive a number of options to choose from before I ask for a deposit and we proceed with the makeover.  Prices shown for small, medium, large and bow front units are for illustration purposes only with the final price depending on the costs of raw units and exclude the handle prices which are added at cost price. The sideboard needs to be washed, prepared  and any repairs made before we start.  It will then be undercoated in a suitable undercoat and spray painted with multiple coats of a grey acrylic paint.  I will finish in an ultra matte, satin or gloss topcoat to make sure that it stands up to everyday usage. The interiors of sideboards not usually touched (apart from cleaning) but these could also be painted and refinished for an additional fee. How about a pop of turquoise or mustard yellow? #challengeglasshousegirl to come up with something stunning! Please
contact me
for more information and a no-obligation customised quotation.
£

390.00 –

£

595.00
Select options