Chest of Drawers
Showing all 3 results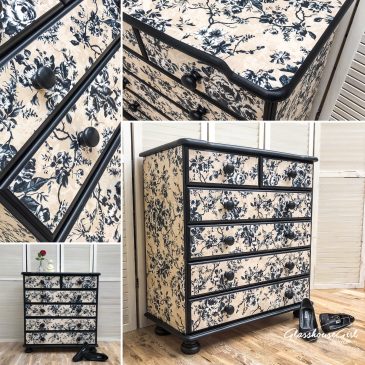 Dalston Rose Solid Pine Chest of Drawers / Dresser
This solid pine piece has been given the ultimate modern country makeover and demonstrates that the simplest vintage furniture can be transformed into an on trend feature piece. The frame and handles of the original 4+2 drawer chest of drawers (or dresser as our American friends like to call it!)  been have been refinished in a striking black acrylic paint.  The flat surfaces have then been decoupaged with this striking HoH Dalston Rose paper featuring roses in black and white on a cream background.  The whole piece has then been sealed with several coats of satin varnish which gentle refracts the light. I have a very limited amount of this discontinued paper available so don't delay in purchasing this item!  Matching 3-drawer bedside tables can be commissioned for £185 each making this unique piece part of a truly incredible bedroom set. Dimensions: 800mm wide x 390mm deep x 830mm high. As this is an upcycled piece, please examine the photos carefully before purchase – thanks!
£

360.00
Commission Similar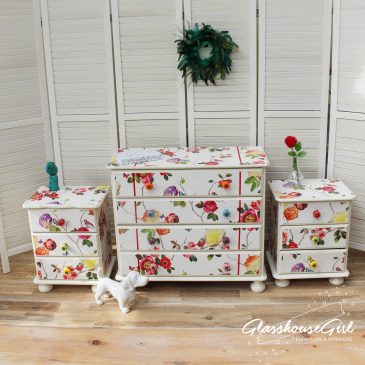 Colourful Birds & Roses Bedroom Set
This delightful vintage shabby chic bedroom set is a wonderful example of what can be done with 80s/90s pine furniture.  The surfaces, edges and feet of each individual piece are similar but not identical making it a lovely little harlequin set - one that matches without being matchy matching! Each piece has been sanded, undercoated and then hand painted with two coats of Fusion mineral paint in their 'Limestone' colour way which is a soft cream. They have then been decoupaged on all the flat surfaces with this incredible roll of wallpaper featuring roses and birds in dramatic colours on a cream background - sadly this colourway has now been discontinued :(  The edges of the decoupages have been torn rather than knife cut and lightly sanded giving it a very relaxed and romantic feel. The units have been finally been sealed with multiple layers of a resin based sealer to make them as practical as they are beautiful. Multi-colour ceramic pumpkin handles with gold detail lines on a bronze base and a red drawer liner complete this country cottage shabby chic look. Dimensions Bedside table 1: 425mm wide x 312mm deep x 533mm high Bedside table 2: 429mm wide x 313mm deep x 537mm high Chest of drawers: 827mm wide x 376mm deep x 731mm high Please note: these are vintage pine units which are in good but not perfect condition (see drawers of one of the cabinets) but I believe this just makes them even more charming and individual - a shabby chic enthusiast will just love them.
£

660.00
Commission Similar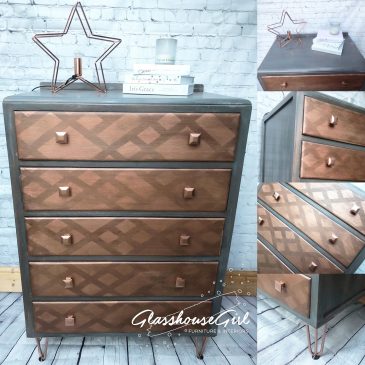 Grey & Copper Patina Chest of Drawers
This art deco 1940s chest of drawers has been reworked, base removed and rose gold/copper 15cm legs added to create a more modern and striking feature piece which would look stunning in lounge, hallway or bedroom. The main unit has been sanded, undercoated and then sprayed in two coats of Farrow and Ball Down Pipe Eggshell paint, before being finished with dark wax, a copper / rose gold patina and light distressing. This gives the piece a vintage feel. The oak drawers have been sanded and restained in a dark oak / walnut and a rose gold / copper geometric pattern applied. The drawers have then been finished with a dark wax to give a subtle look that changes depending on the lighting throughout the day. Square solid metal rose gold / copper handles complete the look. The unit measures: Width - 750mm Depth - 465mm Height (inc legs) - 1100mm This piece is a vintage 1940s original with a lightly distressed look so please review the photos carefully before purchase to make sure you are 100% happy.
£

345.00
Commission Similar