Console Table
Showing all 3 results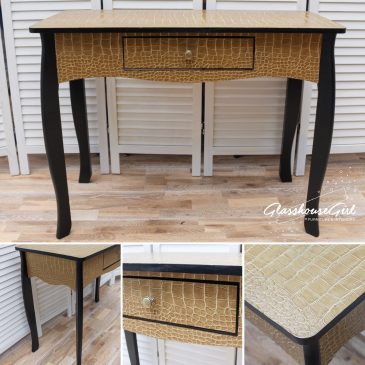 Black and Gold Croc Console Table / Narrow Desk
These sexy and stylish console table are restyled in my 'Croc' design with black and gold colouring. The sabre style legs and edging were painted with multiple coats of satin black lacquer whilst the top featured a textured gold / bronze crocodile skin style decoupage.  It was then finished with 2 coats of gloss varnish to protect the finished piece. Storage drawer with a solid brass handles completed the look. Pictured are some previous customer orders and I can make one to order just for you.  Pricing starts from £250.  I can use your existing piece of furniture or source the perfect piece for you. Contact me with your ideal dimensions and requirements for a no obligation quote.
£

250.00
Commission Similar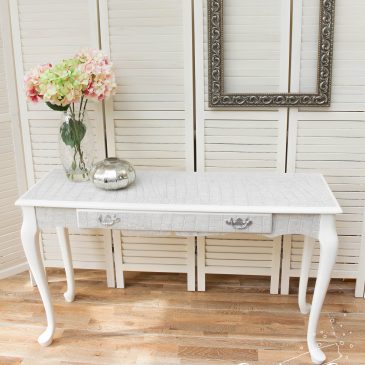 Grey and White Mock Croc Console Table / Narrow Desk
This sexy and stylish console table was restyled in our popular 'Croc' design. The flat surfaces have been decoupaged in grey mock croc or alligator textural wallpaper which is soft to the touch and feels as if it is luxurious leather. The cabriole style legs and edging were handpainted in 'Huix de Noir' an Autentico paint which gives in another layer of textural style. The piece has been finished with multiple thin layers of a resin based varnish to protect it and make it practical for everyday use. A useful storage drawer with two silver traditional style handles completes the look. Dimensions: 1210mm wide x 400mm deep x 690mm high. As this is an upcycled piece, please examine the photos carefully before purchase - thanks! The 'Croc' design can be applied to many different types of furniture and is available in a number of colourways including gold, black, green, plum, white and grey - please contact me for more information :D
£

270.00
Add to basket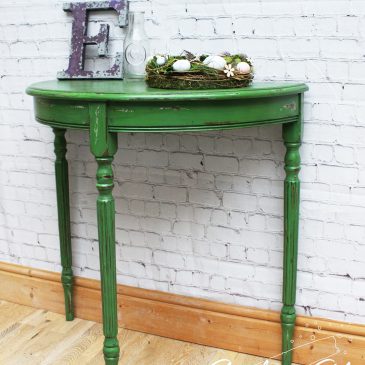 Green French Farmhouse Distressed Demi Lune Table
This vintage reproduction demi lune table has all the elegance of late 18th and early 19th century France in all its faded grandeur. The simple top is complimented by three gently tapering legs with a vertically grooved central column. The original dark wood has been undercoated in white and hand painted in 2 coats of Apple Green chalk paint. To get that vintage aged look, it has then been distressed in a 'chippy' Farmhouse style and topped with a black streaky glaze. Two coats of gloss varnish seal the piece, allowing it to endure every day usage. The bright green is very on trend and would make a striking feature in your hallway or behind a sofa. Top it off with a display of your vintage treasures for a modern take on French country elegance. Dimensions: 750mm wide x 380mm deep x 760mm tall. As this is a deliberately distressed finish, please examine the photos carefully before purchase – thanks!
£

115.00
Commission Similar